CybrSec Solutions for Education
60,000 Educators Use GoldKey
CybrSec provides schools and educational organizations with security solutions to safeguard student records and to help schools to comply with student privacy regulations.  GoldKey® Tokens with b² cryptography are being used by teachers and school administrators to secure access to records for over 2 million students worldwide.
Protecting Student Records and Privacy 
As education progresses through the digital transformation, cyber security has become a top priority.  Cyber attackers are specifically targeting the identities of students (minors).  Stolen student identities have a high value because the lifecycle of fraud goes undetected for much longer than that of adults.  Cyber attackers are using high effective strategies such as phishing emails to circumnavigate firewalls and other defenses.
School administrators must meet with these challenges to comply with student privacy laws and regulations such as FERPA  (Family Educational Rights and Privacy Act).  Student information communicated by email, text or video is considered personal identifiable information and must be protected.  This is why cyber security is a top priority of K-12 administrators.
K-12 Organizations Increasingly Targeted for Cyberattacks
"K-12 organizations are increasingly prime targets for cyberattacks, because of the large amount of student and employee data they collect, produce, store and analyze, and the perception they are less well-hardened against attacks than other industries." 
Gartner – Top Five Strategic Technologies Impacting K-12 Education in 2019
GoldKey Security Services
Now available for Educators
CybrSec is offering its complete suite of GoldKey Security Services to schools and educational organizations.  GoldKey Security Services safeguard private information – protecting students and employees while helping schools comply with federal and local privacy regulations.
Organizations already using GoldKey for secure authentication, will now be able to offer teachers and administrators encrypted communications and cloud storage – all secured with GoldKey Tokens and b² cryptography.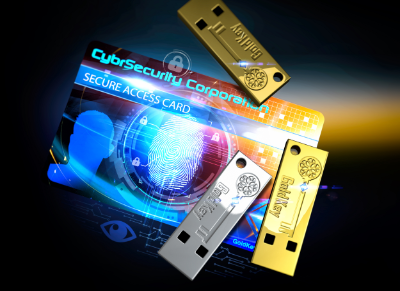 GoldKey Tokens are used to access GoldKey Security Services.  Form factors include USB and card tokens as well as Soft-tokens for mobile devices.
GoldKey Security Services Include:
GoldKey Email
Send an email to another GoldKey email account and your message is automatically encrypted.  b² cryptography enables authenticated email so your inbox is free from viruses and phishing attacks.    » Learn More
GoldKey Vaults
GoldKey Vaults provide secure file sharing for educators while allowing administration access control for sensitive data.  Files are securely and automatically backed up so you never loose your data.     » Learn More
GoldKey Phone
GoldKey Phone provides security and confidentiality for instant communications including voice calls, video chat, and text messaging.  Compatible with iOS and Android devices.   » Learn More
"Like many industries, K-12 education is contending with numerous security threats, such as ransomware, DNS data exfiltration, malware and phishing attacks on employees and students, but adds the historically challenging lack of good cybersecurity behavior on campuses. As the rate of complex attacks continues to rise, organizations are struggling to deal effectively with these threats and associated risks."
Gartner – Top Five Strategic Technologies Impacting K-12 Education in 2019
Personally Identifiable Information (PII) of minor children is an especially prime target for identity theft.  A young person's data has a longer life span, thereby creating a higher-profile risk for liability, and greater destruction of trust and reputation.
− Gartner
Get GoldKey Security Services for Your School
GoldKey Security Services provide educators with the collaboration and communication tools they need to perform their missions, while keeping private information secure.  GoldKey safeguards digital assets from theft, misuse, and loss, while helping schools comply with federal privacy regulations.
Request a quote to see what it would cost to deploy GoldKey Security Services at your school.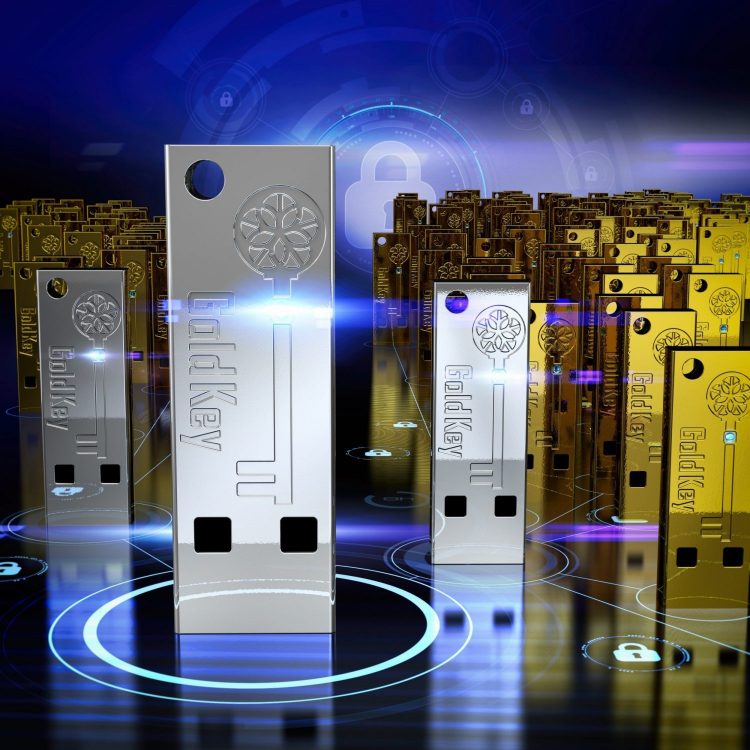 GoldKey Tokens with b² cryptography