CybrSec Solutions for Education
60,000 Educators Use GoldKey
CybrSec provides schools and educational organizations with security solutions to safeguard student records and to help schools comply with student privacy regulations.  GoldKey® Tokens with b² Cryptography are being used by teachers and school administrators to secure access to records for over 2 million students worldwide.
Protecting Student Records and Privacy 
As education progresses through the digital transformation, cyber security has become a top priority.  Cyber attackers are specifically targeting the identities of students (minors).  Stolen student identities have a high value because the lifecycle of fraud goes undetected for much longer than that of adults.  Cyber attackers are using high effective strategies such as phishing emails to circumnavigate firewalls and other defenses.
School administrators must meet with these challenges to comply with student privacy laws and regulations such as FERPA  (Family Educational Rights and Privacy Act).  Student information communicated by email, text or video is considered personal identifiable information (PII) and must be protected.  This is why cyber security is a top priority for K-12 administrators.
K-12 Organizations Increasingly Targeted for Cyberattacks
"K-12 organizations are increasingly prime targets for cyberattacks, because of the large amount of student and employee data they collect, produce, store and analyze, and the perception they are less well-hardened against attacks than other industries." 
Gartner – Top Five Strategic Technologies Impacting K-12 Education in 2019
GoldKey Security Services
Now available for Educators
CybrSec is offering its complete suite of GoldKey Security Services to schools and educational organizations.  GoldKey Security Services safeguard private information – protecting students and employees while helping schools comply with federal and local privacy regulations.
Organizations already using GoldKey for secure authentication, will now be able to offer teachers and administrators encrypted communications and cloud storage – all secured with GoldKey Tokens and b² Cryptography.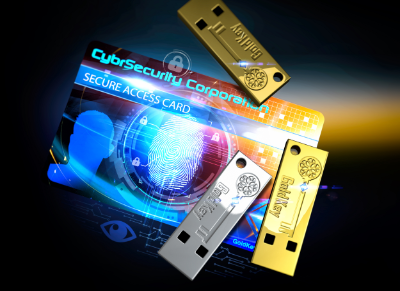 GoldKey Secure Email for Schools
72% of Cyber Attacks begin with a Phishing Email
Protect your school from viruses and phishing attacks with GoldKey authenticated email.  Strong encryption keeps emails protected aiding in FERPA compliance.  » Learn More
Authenticated Email: Phishing Email Mitigation
An alarming 72% of cyber attacks begin with a phishing email.  Educators are often targeted with these types of attacks through cleverly crafted emails appearing to be from senior school administration.  All that is required is for the recipient to click on a provided link and a malware or ransomeware virus is launched allowing hackers access to all information stored on the school's network.  For a district this means personal information on students and employees such as social security numbers, birthdates, health records, grades, and payroll information.  Hackers may exploit this data by selling it, or by maliciously encrypting the all data on the network, seriously crippling or shutting down the school's ability to function until a random is paid.  
GoldKey Secure Email uses b² Cryptography to protect your school from phishing attacks with its unique authenticated email system, so you know that the email in your inbox is actually from the proposed sender.  Emails from unverified senders are filtered and quarantined in the Junk folder.  This not only protects systems from viruses and cyber attacks, but it helps remove distractions and makes sure important emails are easy to find.
Email Encryption and FERPA Compliance
All student personally identifiable information (PII), as well as any other data that may be used "to identify the student with reasonable certainty" is protected under FERPA.  Emails containing this type of data, including student grades, need to be secured to avoid FERPA violations.  To effectively secure these communications email encryption is required.
Encryption is needed as emails travel across open public networks as well as when stored in the cloud.  While many vendors claim to offer email encryption, the email stored in the cloud is still accessible to the provider where it is mined for data to help them "improve their services" (e.g., to solicit its users with focused ads to the vendors financial gain).  These email systems, often provided for free, result in a serious loss of privacy to the user, and have become the subject of much controversy.
 GoldKey Email provides robust automatic encryption for email communications.   Emails are encrypted in transit and remain encrypted when stored in the cloud, protecting student information for compliance with FERPA.
Eliminate Vulnerable Username & Passwords with GoldKey Tokens
Most email accounts are only protected by a user name and password and are vulnerable to brute force attacks.  This vulnerability can lead to serious concerns when it comes to protecting student data for compliance with FERPA law.
GoldKey Email utilizes strong two factor authentication with GoldKey tokens to protect accounts from unauthorized access — the user must have the token and know the correct PIN.  To further protect a GoldKey Email account from unauthorized access, the token will become locked after the wrong PIN is entered 9 times.
GoldKey Vaults for Educators
GoldKey Vaults provide secure file sharing for educators while allowing administration access control for sensitive data.  Files are securely and automatically backed up so you never loose your data.     » Learn More
Military-Grade Encryption for Student Data in the Cloud
GoldKey Vaults protect data with military-grade encryption in transit and at rest in the cloud.  Even if a hacker was to intercept the data it would be completely useless.
GoldKey Tokens with b² Cryptography use multifactor authentication for secure access to data stored in GoldKey Vaults.  Without the token or the correct PIN the data is unaccessible.  This provides an extra layer of protection for encrypted data in the cloud.
Secure File Sharing with User Groups
Being able to let educators collaborate while still maintaining security for student PII is critical for schools to function efficiently.   
GoldKey Vaults make it easy to organize and control access to data for secure file sharing in the cloud.  Management is simple and can be overseen by school administration without requiring IT involvement.  
Groups can be assigned for access to specific vaults and members may be added or removed as needed.  Access privileges can be set to read-only, read/write or management access for granular control of data.
Access Control and Monitoring
As more and more data is moving to the Cloud, new challenges are arising in how to effectively manage and monitor access to this data.  In many cases oversight for data stored in the cloud must be "trusted" into the hands of the provider with little or no access and monitoring controls for the end user.
GoldKey Vaults utilize GoldKey Tokens with b² Cryptography to provide secure access and management for data stored in the cloud.  Vault Management actions are logged for oversight and security monitoring purposes, helping schools safeguard student records and achieve compliance with FERPA.
GoldKey Phone for Educators

Securing Instant Communications
GoldKey Phone provides educators with security and confidentiality for instant communications including voice calls, video chat, and text messaging.  Compatible with iOS and Android devices.   » Learn More
The Importance of Securing Instant Communications
Instant communications provide educators with the important and convenient communication tools required to perform their missions.  However these communications are typically not secure, putting sensitive student data and PII at risk.  
GoldKey Phone Service provides educators with extreme security for text messaging, voice calls, and video calls over Wi-Fi and cellular data networks.  Secured by award-winning b² Cryptography, GoldKey Phone uses hardware-based encryption channels with authenticated users to guarantee privacy, even over public networks. 
Free Email — Too Risky for Board Communication
"With most free email providers (e.g., Gmail, Yahoo! Mail!, AOL) having been breached in the past three years, users should assume these channels are unsecured and easily hacked. But, does using district-linked email accounts eliminate cyber risk? Unfortunately, no. "

– NSBA 2018 Cyber Risk Report: School Board Communication at risk
"Free" Cloud Storage Sites Are Not "Risk Free"
"Providers of "free" cloud storage sites offer convenient services attractive to groups collaborating on projects from remote locations. Although these providers typically offer basic password security and data back- ups, the free versions are frequently targeted by hackers and are not tightly secured. Meanwhile, the terms and conditions users must agree to in order to use these "free" services typically grant broad rights and access to user data to the providers, and absolve them from any damages in the event of a data breach."
– NSBA 2018 Cyber Risk Report: School Board Communication at risk
Personally Identifiable Information (PII) of minor children is an especially prime target for identity theft.  A young person's data has a longer life span, thereby creating a higher-profile risk for liability, and greater destruction of trust and reputation.
− Gartner
Get GoldKey Security Services for Your School
GoldKey Security Services provide educators with the collaboration and communication tools they need to perform their missions, while keeping private information secure.  GoldKey safeguards digital assets from theft, misuse, and loss, while helping schools comply with federal privacy regulations.
Request a quote to see what it would cost to deploy GoldKey Security Services at your school.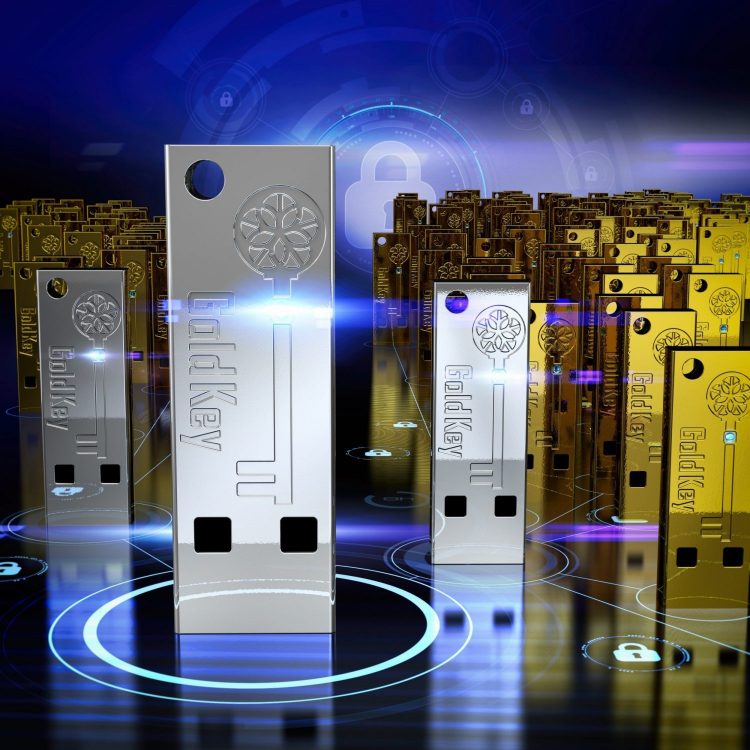 GoldKey Tokens with b² Cryptography